Driveway and Patio Contractors in Leighton Buzzard.
Our Services Include Block Paving, Tarmac Driveways, Gravel and Patio Installations.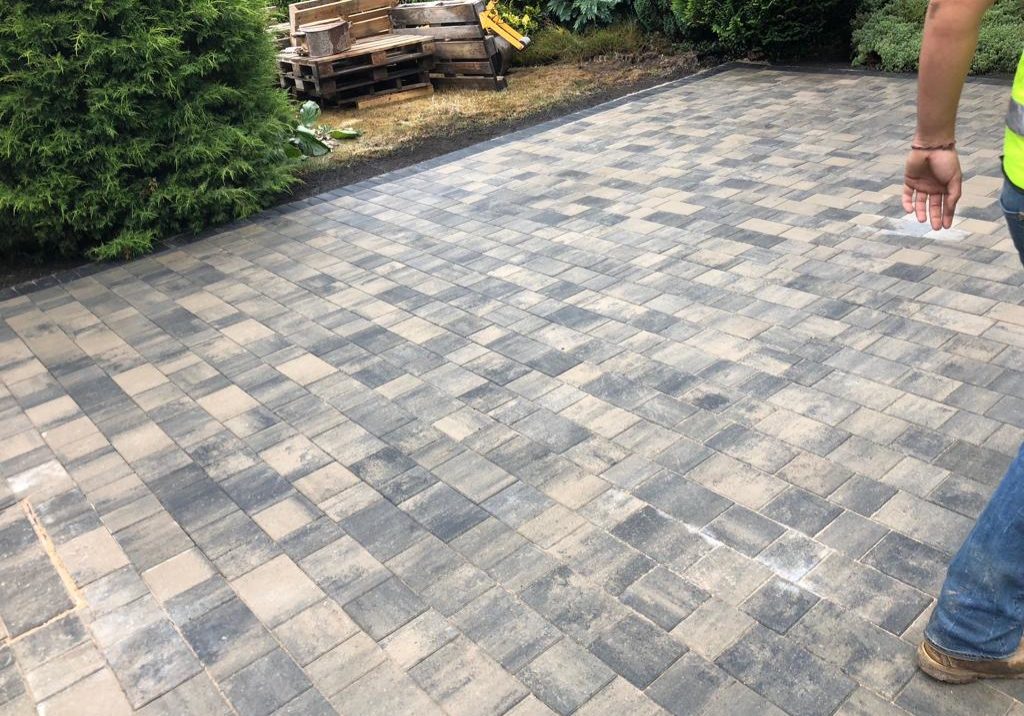 BM Paving in Leighton Buzzard are experienced block paving contractors. Established over 30 years with a team capable of tackling all types of installations on driveways, patios and garden areas.
During the FREE quote with BM Paving, we can go through all the different choices available to you and provide you with design choices to help you get the most from the area. When you want it laid right, you want BM Paving to lay it.
EXPERTS AT LAYING BLOCK PAVING ON DRIVEWAYS
We can create new driveways, extend your driveway or replace an older driveways in Leighton Buzzard. We provide multiple affordable options and we recommend having a look through our services to see our driveway installation options.
We can create a new garden or build a patio at your home using quality materials from both Marshalls and Tobermore. We provide a range of build options including decorative options like garden fencing, pathways, walling, ponds and more. Call our dedicated team today to get a free quote in Leighton Buzzard.
B and M Paving Leighton Buzzard
Drakes Avenue
Leighton Buzzard
LU7 3EB

Find out more about the different driveway and patio services we can provide in Leighton Buzzard.
BLOCK PAVING LEIGHTON BUZZARD
When you want block paving in Leighton Buzzard, let BM Paving provide you with a free quote. We can lay block paving on driveways, patio, gardens and pathways. Our skilled block pavers can create a range of custom tailored paving options at very affordable prices.
There are many benefits to block paving including the durability and versatility of having concrete block paving as your driveway. With a wide range of colours, textures and design choices available. Here are some examples of the types of block paving available.
Standard Block Paving
Standard block paving is available in 50mm and 60mm depths. Most driveways are laid now using the 50mm block paving. For driveways that will be having heavy duty vehicles parking on it or turning on a regular basis, we would recommend the 60mm block paving option from Marshalls Driveline.
The most common laying patterns for this type of paving is herringbone. Which can be laid either in 45 or 90 degree pattern. You can have patterns inserted into your driveway with the diamond pattern being the most common type of pattern.
As with any driveway installation by BM Paving, we will always start our preparation work by clearing away any of the old area. We will put in a new Type 1 MOT foundation on your driveway and use a membrane sheeting to help protect your driveway from weeds.
We will lay down a river washed sand which is used for setting an accurate level on the driveway for the block paving and lay the paving directly on it.
At this stage, a string line is pulled to set an accurate angle from your house and we will lay the block paving in which ever pattern you have chosen.
We will always use a border around your driveway with the most common colour of the paving border a contrasting colour to the main colour.
Permeable Paving
This style of paving is used for driveways that will be facing water retention problems or flooding. It complies 100% with SUDS regulations ensuring you do not need planning permission if you are converting a garden area into a new driveway.
It is available with all the same colour and pattern choices as standard block paving with the only difference being the spacers placed on the block paving. They are set larger with a slight riven edge on the paving to allow the water to pass through faster.
The preparation for permeable paving is the most significant part of having an installation with the driveway requiring at least 3 tiers of base split between crushed stone, Type 4 MOT and using a grit instead of river washed sand.
The purpose of this is to ensure you have enough drainage room under the driveway to siphon the water away fast without it pooling on your driveway. The depth requirements are significant and will vary depending on the sub base between 200mm and 500mm.
Tegula Paving
A great option for any driveway with 2 varying finishes on the paving styles. One is smooth whilst the other texture for Tegula paving is generally referred to as tumbled.
Available in a large variety of colours, it is laid using 3 different sizes of Tegula paving. It can be laid with 1 size but the overall effect is enhanced when laid using the full 3 sizes.
The preparation is the same as standard block paving but the laying pattern for Tegula paving is generally laid in an offset / staggered pattern creating a cobble stone style effect on your driveway.
For a more unusual way, you can lay it using the large size only and at a 45 degree angle to the house to make it really stand out.
TARMAC DRIVEWAYS LEIGHTON BUZZARD
A very common driveway style in Leighton Buzzard is tarmac driveways. We provide a range of tarmac options for driveways including asphalt driveways, tar and chip and resurfacing a driveway.
If you currently have a tarmac driveway, it might be possible to resurface the existing driveway without replacing it. This depends on the existing driveway condition and the levels on the driveway.
We can put down tar and chip on driveways which is done using a hot bitumen and bonding it with a stone / chip finish. You can choose from a variety of chip finishes with gold being the most popular.
We provide another custom option at BM Paving, we can put down rubber tarmac on playground areas or in your patio area if you are worried about the kids hurting themselves.
If you are getting a new tarmac driveway, we will always remove the existing driveway including the base. We will put in a new Type 1 MOT and lay down a new tarmac finish which we will power roll to a solid finish.
You have options available with a new tarmac driveway like inserting a custom paved border around it or a paved apron for the entrance way. We can put in granite edging, standard block paving kerbs or concrete edging kerbs around it as well.
Drainage will be assessed during the free quote to see if it is required in order to handle the surface water as tarmac is not permeable.
GRAVEL DRIVEWAYS LEIGHTON BUZZARD
A very affordable option for a new driveway in Leighton Buzzard especially on larger driveways. Our skilled pavers can lay down gravel driveways and provide you with options including having a custom border around it. If the driveway is elevated, you will need to have an edging kerb to retain the gravel.
We source only quality gravel which is available in a variety of colours. We can provide you with samples to help you choose the style you would like. We can even mix and match the colours to create a more vibrant driveway. The most common choice is 20mm gravel in the gold colour.
Gravel driveways have the added bonus of being a natural permeable solution which means it will comply with SUDS allowing you to transform gardens into driveways without any planning permission required.
Preparation for a gravel driveway will depend on the existing base. If the base is not considered permeable, we will remove it to install a new Type 4 base into your driveway. It is not possible to direct water on a gravel driveway so the only drainage point for it is to drain down into the base.
We always ensure our driveway rubble is disposed of correctly by using registered recycling centers ensuring it can be recycled and used again.
PATIO INSTALLERS LEIGHTON BUZZARD
Let BM Paving transform your patio and garden area in Leighton Buzzard. We provide a very large range of choices for patio areas. We create custom bespoke patios at very affordable prices using slabs, natural stone or patio paving.
Natural Stone
Natural stone patios are the most expensive choice of patios but the overall finish and durability of a natural stone patio is unrivaled. Available options include using Indian sandstone for your patio, granite stone, travertine slabs, egyptian limestone and porcelain slabs.
The most popular option for natural stone is the Indian sandstone which is available in a variety of colours including rainbow, buff, Raj blend and Kandla Grey.
Slab Laying
We can build new patio using manufactured concrete patio slabs from Marshalls. They are available in a wide range of colour and laying styles. The most common type of patio in this style is laid using concrete riven slabs.
Patio Paving
Another common style of patio is built using garden and patio paving. Using standard block paving, we can lay your patio in a variety of colours and laying patterns. To make a patio really stand out with garden paving, we recommend inserting a paved circle into it which is available in matching styles to the paving.
When You Need A Paving Contractor in Leighton Buzzard, Call The Professionals At BM Paving
B M Paving Leighton Buzzard
Summary
BM Paving provide expert driveway and patio services in Leighton Buzzard. We offer a range of choices including block paving driveways, tarmac driveways, gravel and more. Quality work at unbeatable prices.