Home » Block Paving Milton Keynes » Paving Contractors Milton Keynes
Driveway and Patio Paving Contractors. All Types Of Paving Installed By A Local Contractor.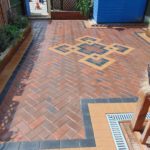 Do you need a local, registered and affordable paving contractor in Milton Keynes? Give B and M a call today. Experts at replacing, repairing or installing block paving.
With a team capable of tackling all sized driveway or patio areas, we can provide you with a free quote today.
Get our team today to go through the various options that are available to you when you choose one of the best contractors for paving Milton Keynes!
We would love to provide you with examples of the types of block paving we can install for you.
We can tackle any sized driveway or patio, transforming it with paving from Marshalls using standard block paving or Tegula paving.
With extra features available like block kerbing, curved steps, unique custom patterns, drainage designed for block paving and more.
FREE NO OBLIGATION QUOTES
QUALITY PROVEN PAVING CONTRACTORS
Unbeatable Paving Contractors!
We do block paving installations in Milton Keynes to very high standards that only a registered and experienced paving contractor can provide. From correct excavation levels to installing a solid Type 1 base for your driveway.
Using river washed sand which is set level using string lines and screeded by floating bars and channels we will install your paving to exact spirit levels for surface water drainage.
If you would like to know more about our paving services or would like to talk to us, don't hesitate to get in touch.
Call us today to book a free quote on replacing your driveway with Tegula paving in Milton Keynes. We look forward to hearing from you. Local, affordable block paving specialists for Milton Keynes
CUSTOMER REVIEW
Block Paving on Driveway
B and M Paving Contractors did a new block paved drive for me last week and I just had to leave them a review because I am so pleased with what they have done for me, they gave me a very detailed written quote that they religiously stuck to – the price never went up and they did not take a penny from me until the job was completed. Thanks guys can't wait for you to come back and pave the patio in the near future.
OUR SUPPLIERS