Home » Block Paving Milton Keynes » Driveway Paving
Driveway Paving For Milton Keynes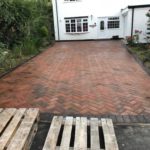 Get a free quote today on installing driveway paving at your home in Milton Keynes. Experts at all types of driveway paving including standard paving and Tegula. Our team can provide you with a detailed breakdown on the cost and options available when you choose to use paving for your driveway.
Driveway paving is suitable for all types of vehicles although we would recommend a 60mm block over the standard 50mm Driveline paving if you are going to be having regular traffic from lorry's.
We can go through colours, patterns, laying styles, provide you with samples and give you options on driveway extras like edging kerbs, steps, drainage and more.
FREE NO OBLIGATION QUOTES
UNBEATABLE DRIVEWAY PAVING OPTIONS
DRIVEWAY INSTALLATIONS WITH PAVING
We can extend your driveway paving or replace an existing driveway with paving. We offer a range of paving options including standard block paving and Tegula paving for you to choose from. If you have a driveway that comes under heavy water, we recommend opting for permeable paving as its more durable and will withstand significant floods of water.
Call us today to book a free quote on having driveway paving Milton Keynes. We look forward to hearing from you. Local, affordable driveway paving experts for Milton Keynes and the surrounding areas.