Home » Block Paving Milton Keynes » Tegula Paving
Tegula Paving Installations in Milton Keynes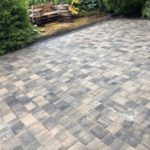 Are you looking for a local Milton Keynes contractor to build a new driveway or patio with Tegula paving at your home? Give B and M a call today. Over 30 years experience designing and building Tegula driveways and Tegula patios to quality proven standards.
With a range of laying options available from 3 sized options to using 2 or even 1 size to install your Tegula. It can laid in a staggered, offset or if you choose to just use the large size, a herringbone pattern in either 45 or 90 degree.
FREE NO OBLIGATION QUOTES
UNBEATABLE TEGULA PAVING OPTIONS
TEGULA PAVING DRIVEWAYS
All our Tegula paving installations are done to approved paving standards with a 5 year written installation guarantee covering our workmanship. There is different finishes available for you when you choose Tegula paving including a tumbled finish and a smooth finish.
Call us today to book a free quote on replacing your driveway with Tegula paving in Milton Keynes. We look forward to hearing from you. Local, affordable block paving specialists for Milton Keynes