Home » Block Paving Milton Keynes » Permeable Paving
Permeable Paving Milton Keynes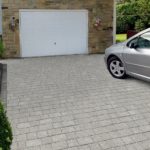 As skilled paving contractors for Milton Keynes, we provide a range of permeable paving options for your driveway or patio. With options on colour, texture and laying patterns available to custom tailor your driveway or patio.
The biggest difference between permeable paving and standard paving is the preparation work and the types of aggregate used. With permeable paving, the depth of your driveway needs to lowered significantly to allow a new permeable base. The base should be made up of Type 3 hardcore or similar to allow water to flood through fast and easily.
The paving itself is laid on a grit base instead of a sand and the final jointing of the paving is done with a fine dust grit instead of kiln dried sand.
FREE NO OBLIGATION QUOTES
UNBEATABLE PERMEABLE PAVING OPTIONS
PERMEABLE PAVING
Every one of your permeable paving installations are done to approved permeable driveways standard with a 5 year written installation guarantee covering our workmanship. There is different styles available including the laying patterns, size of your paving and the type of colours.
Call us today to book a free quote on replacing your driveway with permeable paving in Milton Keynes. We look forward to hearing from you. Local, affordable block paving services in Milton Keynes.